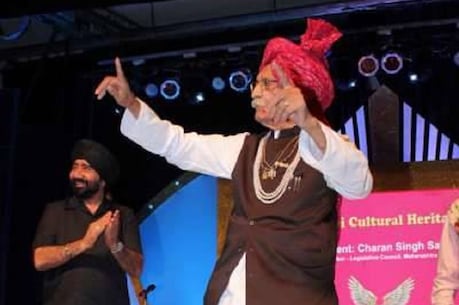 Were born in Pakistan
Everyone knows Dada ji appearing in MDH spice add … Let us tell you some interesting things about these dada (mdh owner) today, which you have hardly heard.
Last Updated:December 3, 2020, 11:54 AM IST
new Delhi:
Everyone knows the grandfather who is seen in MDH spice add … He breathed his last at 5.38 am this morning. He died of a heart attack after recovering from Corona. Come, today we tell you some interesting things about these grandfather (mdh owner), which you have hardly heard. He was born in Pakistan. Let me tell you that in 1919, his father Chunni Lal opened a small shop in Sialkot, Pakistan. Today it has turned into a small 1500 crore rupees empire.
Let's know some exciting things about Dharampal Gulati-
Was born in Pakistan
Gulati was born on 27 March 1923 in Sialkot (Pakistan). After partition of the country in 1947, he came to India. Then he had only 1,500 rupees.Also read: MDH Owner Death: Dharmpal Gulati used to run a tanga and earn money to earn crores of business
Studies up to 5th grade
Dharam Pal Gulati has studied up to class five. He did not go to school for further studies. He may not have taken much book education, but big businessmen consider him to be the iron.
Tanga used to run in Delhi
Coming to Delhi was the biggest challenge before Dharampal Gulati. In those days only 1500 rupees were left in Dharampal's pocket. Out of these 1500 rupees he got from his father, Dharmpal for 650 rupees bought a horse and a tanga and started running a tanga at the railway station. A few days later, he gave it to Tanga Bhai and started selling spices by planting a small kiosk on Ajmal Khan Road in Karolbagh.
CEO with highest salary was
According to Euromonitor, Dharampal Gulati was the highest-grossing CEO of the FMCG sector. Sources said that last year in 2018, they used to get Rs 25 crore in-hand salary.
Was also ahead in charity
Gulati used to donate about 90 percent of his salary. He was also running 20 schools and 1 hospital. Apart from this, he used to help the needy people from time to time.
Also read: The rules for withdrawing money from the changed account will apply to these two banks, know all the things related to the new rule
The oldest ad star was
Dharampal Gulati used to add all his spices himself even in old age. Often you have seen them telling about their spices on TV. He is considered to be the oldest ad star in the world. Apart from this, he also used many special techniques to make his spices tasty.
.