Farah Khan Ali with her husband DJ Akil (Photo courtesy: Instagram / farahkhanali)
Farah Khan Ali (Farah Khan Ali), sister of Hrithik Roshan's ex-wife Suzanne Khan (Sussanne Khan), has decided to separate from her husband DJ Aqeel. They are ending the 22-year-old relationship by mutual agreement, but they will remain good friends.
New Delhi
Sussanne Khan separated from actor Hrithik Roshan a few years ago. Now Suzanne's sister Farah Khan Ali (Farah Khan Ali) has decided to separate from her husband DJ Aqeel. Farah himself has revealed this on social media. She has written a post on Instagram and has told that she has separated from her husband DJ Akeel. She has separated after mutual consent from her husband. She has shared a single picture on Instagram with husband DJ Akeel.
Farah told that their relationship status Has changed now. Now they are a good friend instead of couple. Farah's post shows that they have been separated, but the relationship between them is good. He wants his acquaintances to accept his decision and not judge him. She is talking about the relationship that had ended 9 years ago in the post. Farah writes in this piece, 'Sometimes two people get separated. Sometimes they get ahead of each other. 9 years ago, my relationship with Akil changed from couple to friend. I would just like to say that we are happily separated.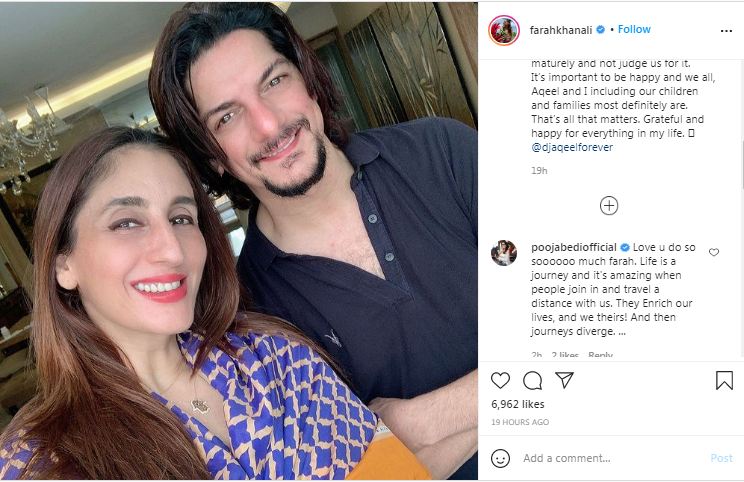 (Photo courtesy: Instagram / farahkhanali)
She adds, 'We will always be each other's best friends and good parents to our dear children Ajan and Fiza, who love us both equally. This is a mutually agreed decision involving two adults and no third person involved. " Farah continues, 'We are saying this in front of everyone, because the people who know us are in our circumstances. Understand and accept it. Keep giving our best wishes to both of us, because we do not have any feelings of enmity towards each other and we will always be present to help each other.
Akil will always be a part of my family and I will also be his family. We hope that our well wishers will accept our decision and will not judge us in any way. It is important to be happy. This is all that matters. I am thankful for everything found in my life.
At the same time, Akeel has also shared the same post and informed his people about his separation with Farah. Many celebs have reacted to Farah's post. Many people including Sophie Chaudhary, Dia Mirza, Suzanne Khan have respected her decision.
.