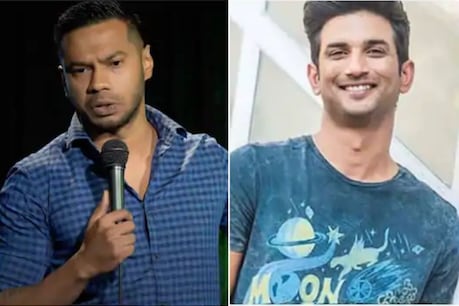 Daniel fernandez
Daniel Fernandez has been criticized on social media for making fun of Sushant Singh Rajput. After these criticisms, Daniel has shared a note of apology on his Instagram.
Last Updated:January 13, 2021, 5:54 PM IST
A few days ago, stand-up comedian Munawar Faruqui was arrested for commenting on Hindu deities. Now another comedian is being trolled a lot on social media. Comedian Daniel Fernandez is being trolled by social media and he is being criticized. Daniel had poked fun at the death of late actor Sushant Singh Rajput in some of his recent acts.
Daniel Fernandez is a stand-up comedian from Mumbai who is mostly known for dark comedy. Some clips of Daniel are getting viral on social media in which he is narrating the jokes on the death of Sushant Singh Rajput and the charges against Riya Chakraborty after his death. In his act, he makes fun of Sushant's death and also says that the whole country has been obsessed with Riya Chakraborty.
In his act, Daniel Mental Health and Justice for Sushant can also be seen criticizing the hashtag and making fun. In the video, Daniel Kangna Ranaut is also called 'CBI Director'. Ever since these video clips have gone viral on social media, people have been criticizing Daniels on social media. Many people are demanding his arrest, while some people are seen giving bad luck to his family too.
The worst thing you could do as a stand-up comedian is making jokes on a tragedy.

Dislike and mass report this video for making jokes on Sushant Singh Rajput death.https://t.co/gqrKX7BhqF– (@saketjaiswal_sj) January 11, 2021
Pained after seeing this video.This comedian is making fun of a dead person who cannot defend himself. The level of humor is crass, to say the least. It does not matter whether Sushant Singh Rajput died by suicide or it was homicide, what give you the license to defame the dead? https://t.co/LnMCe3s8hD

– Soumyadipta (@Soumyadipta) January 11, 2021
After so much criticism on social media, Daniel has shared a note of apology on his Instagram. He has written in this post that his latest video has hurt many people as he has made fun of the death of late actor Sushant Singh Rajput, so he apologizes.
This criticism of Daniels on social media comes at a time when a stand-up comedian named Munavwar Farooqui has been arrested just a few days ago for making fun of Hindu deities and Home Minister Amit Shah. People have split on social media after Munawwar's arrest. Some are demanding his release while some are justifying his arrest.
.